Construction Updates
4349 Yarrow Lane – Johnstown
January 23 2017 – The happy homeowners of this new Energy Star home are moving in!! Please contact us for your new home today. Happy New Year!!
September 19 2016 – We recently installed the front yard landscaping as you can see from the attached picture. This new Energy Star home is still for sale so please stop in and check out the great craftsmanship in this new R&R Home! This home backs to hundreds of feet of open space.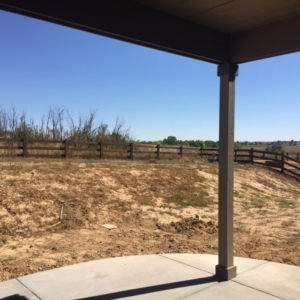 May 13 2016 – Tracy's Team will be hosting an open house at 4349 Yarrow Lane every Saturday and Sunday from 1 to 4pm so please plan to stop by and see this great new house.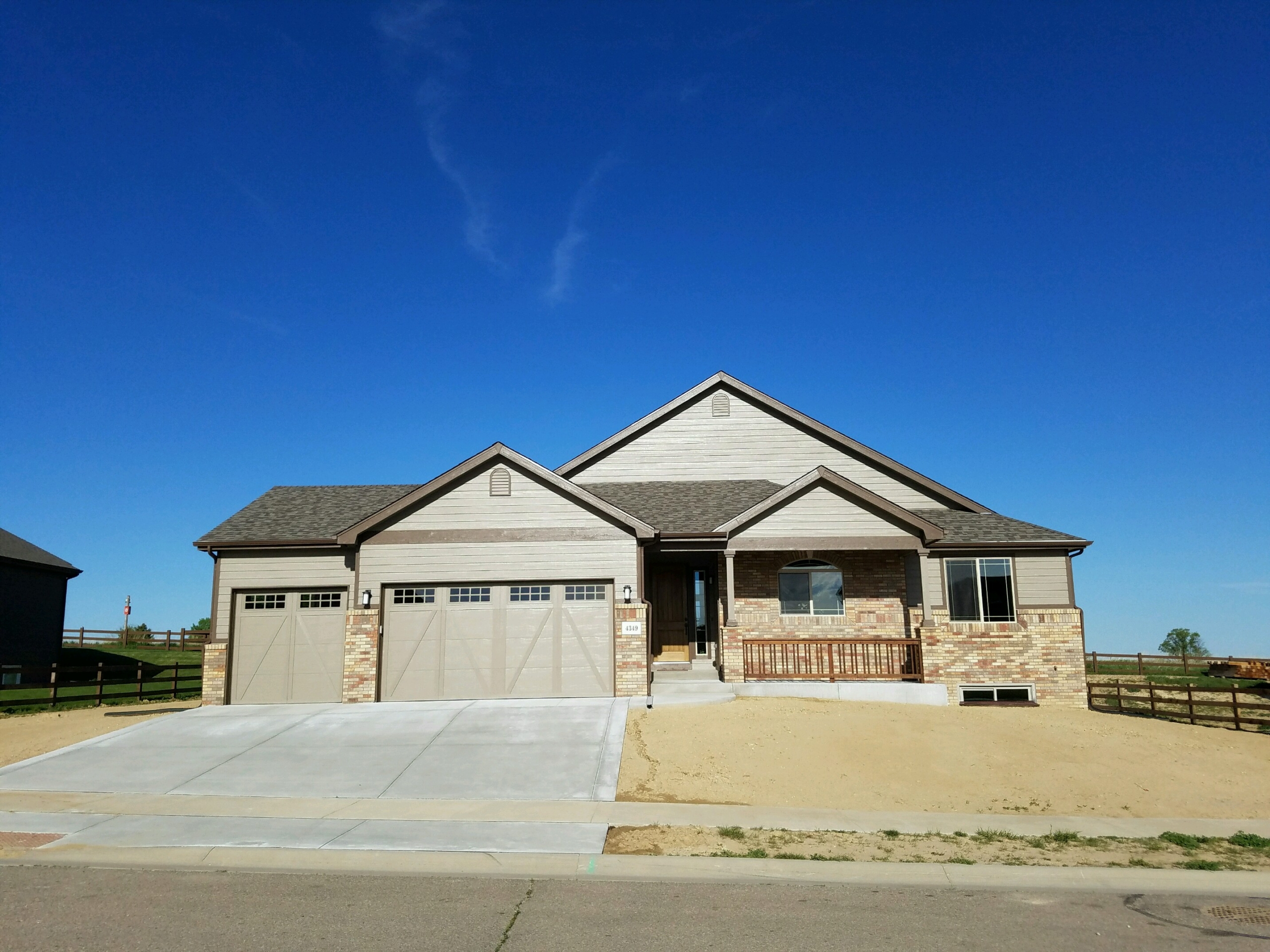 April 28 2016 – Tracy's Team has posted the virtual tour of this Energy Star home at 4349 Yarrow Lane for sale! Tracy's Team has staged this new home for sale and will begin Open Houses this weekend of Apri1 30/May 1. Please visit to see this wonderful very energy efficient  and well-built house. Thank you.
April 19 2016 – We received a HERS score of 55 for this new Energy Star home for sale!!!  This means your new R&R really energy efficient home is approximately 45% more energy efficient than a standard new home! For your reference, the lower the HERS score the better as most new homes now are about a 100, most older existing homes are 130 or greater and a Net Zero Energy home would be zero. So our 55 score on this new home is awesome! If you are not aware of all the benefits of an Energy Star rated home, please read our Energy Star webpage or Energy Star and Energy Efficiency Blog page.
April 18 2016 – Tracy's Team will stage this house for furniture later this week and we will start having open houses this weekend. Please stop in to see all the neat things we did with this new Energy Star house.
April 17 2016 – We are almost finished and just need to stain and install the Therma-Tru 8′ tall fiberglass Rustic front door and do the fine grading in the yard. Please see the pictures below of this new Energy Star house for sale.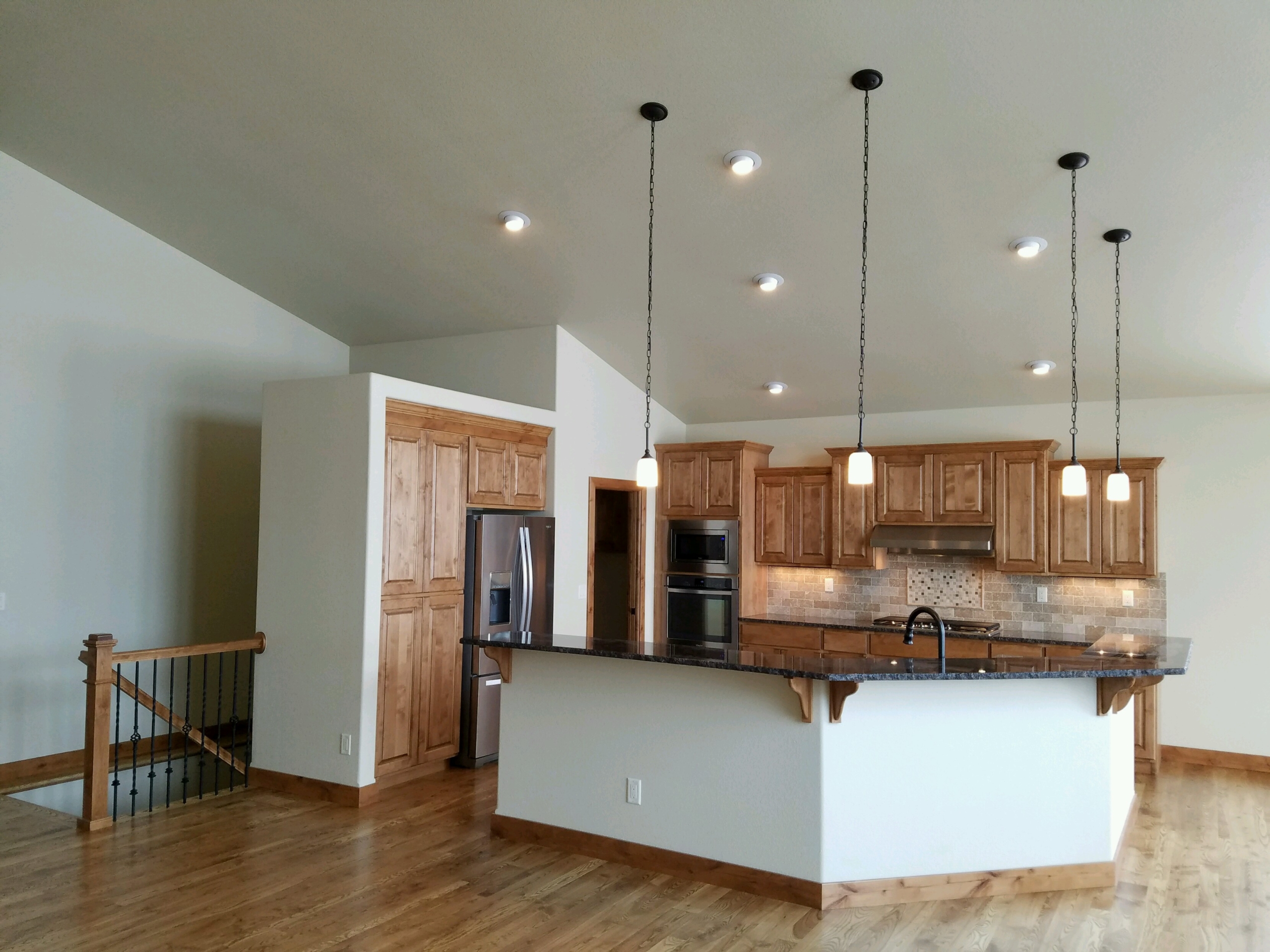 4349 Yarrow Lane kitchen with Nutmeg stained alder Tharp cabinets and Tan Brown chipped polished edge 3cm granite. All Whirlpool appliances including French Door bottom freezer fridge, 5-burner gas cooktop and Zephyr Vent hood to the exterior.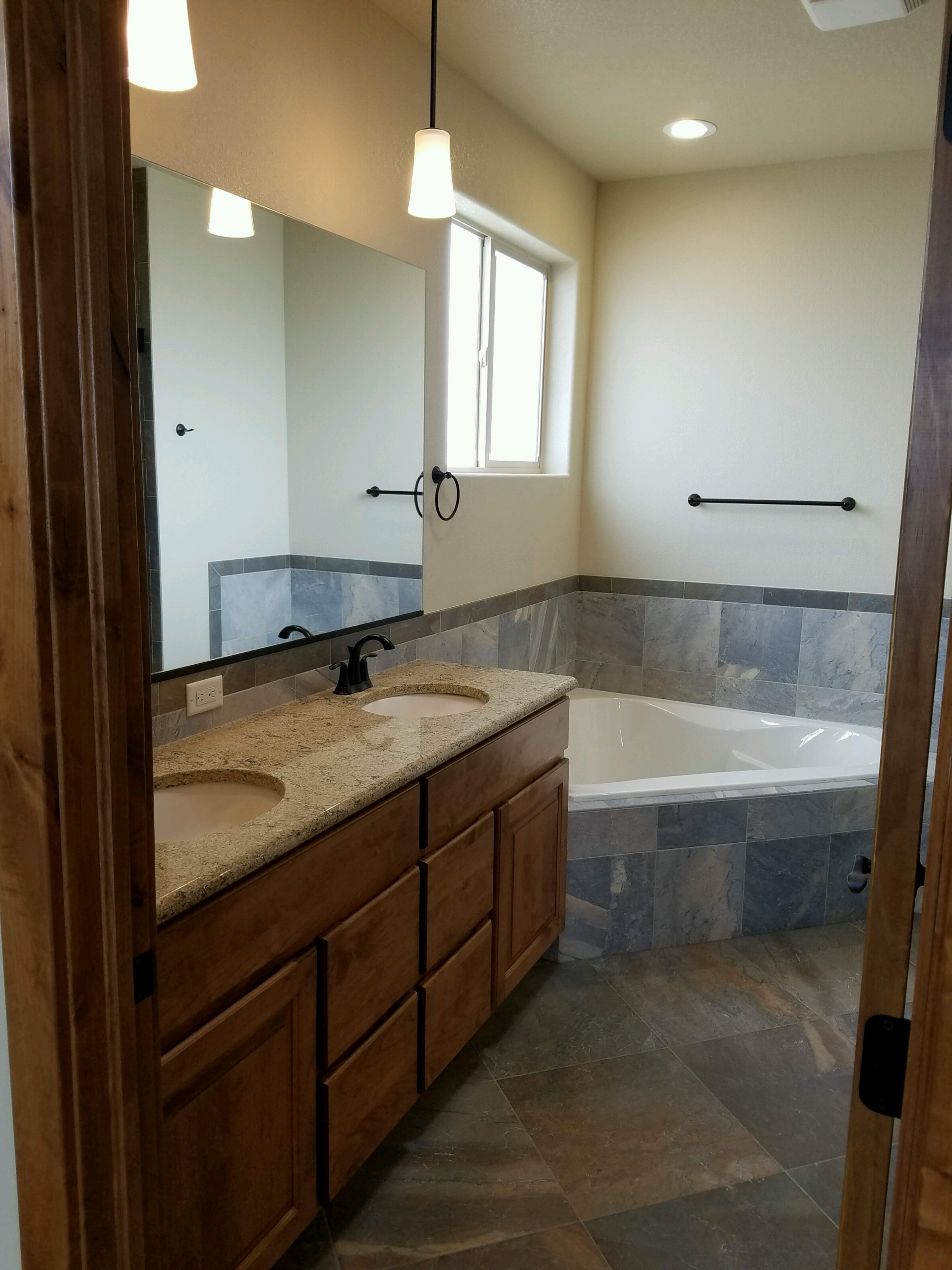 4349 Yarrow Lane master bathroom soaker tub and 2 sinks. Porcelain tile and upgraded 3cm granite countertop with under mount sinks.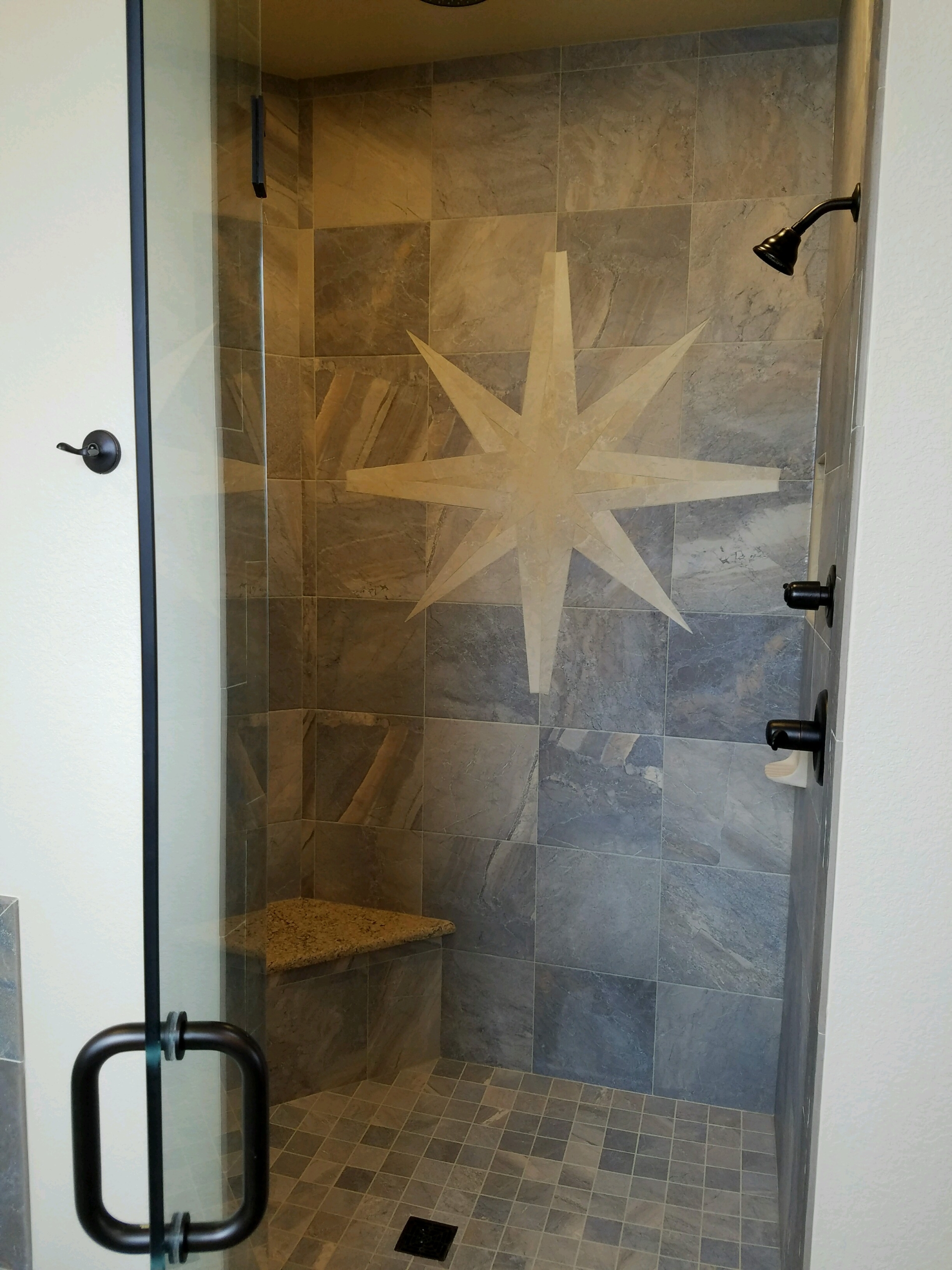 4349 Yarrow Lane master walk-in shower. Porcelain tile with granite bench and poured shower floor. Built-in niches for storage. Regular shower head and rainfall head in ceiling with diverter to control them. Frameless glass shower door that swings both ways.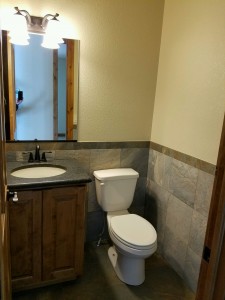 4349 Yarrow Lane powder bathroom features porcelain tile wainscot on the walls to tie into the countertop. The granite is an upgraded piece that is leathered and needs to be seen to see how cool it is.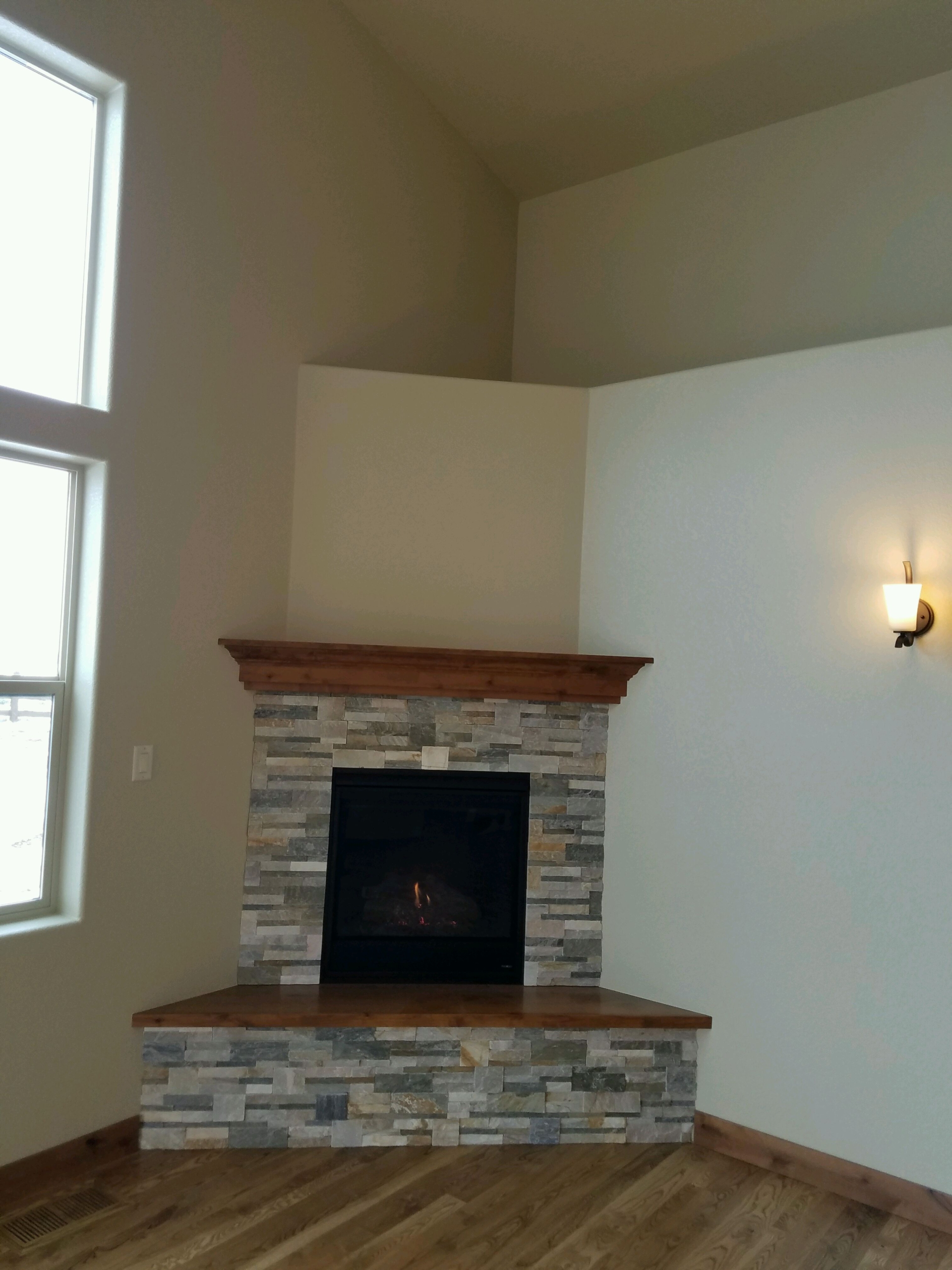 4349 Yarrow Lane fireplace with DalTile stone and wood hearth and mantle.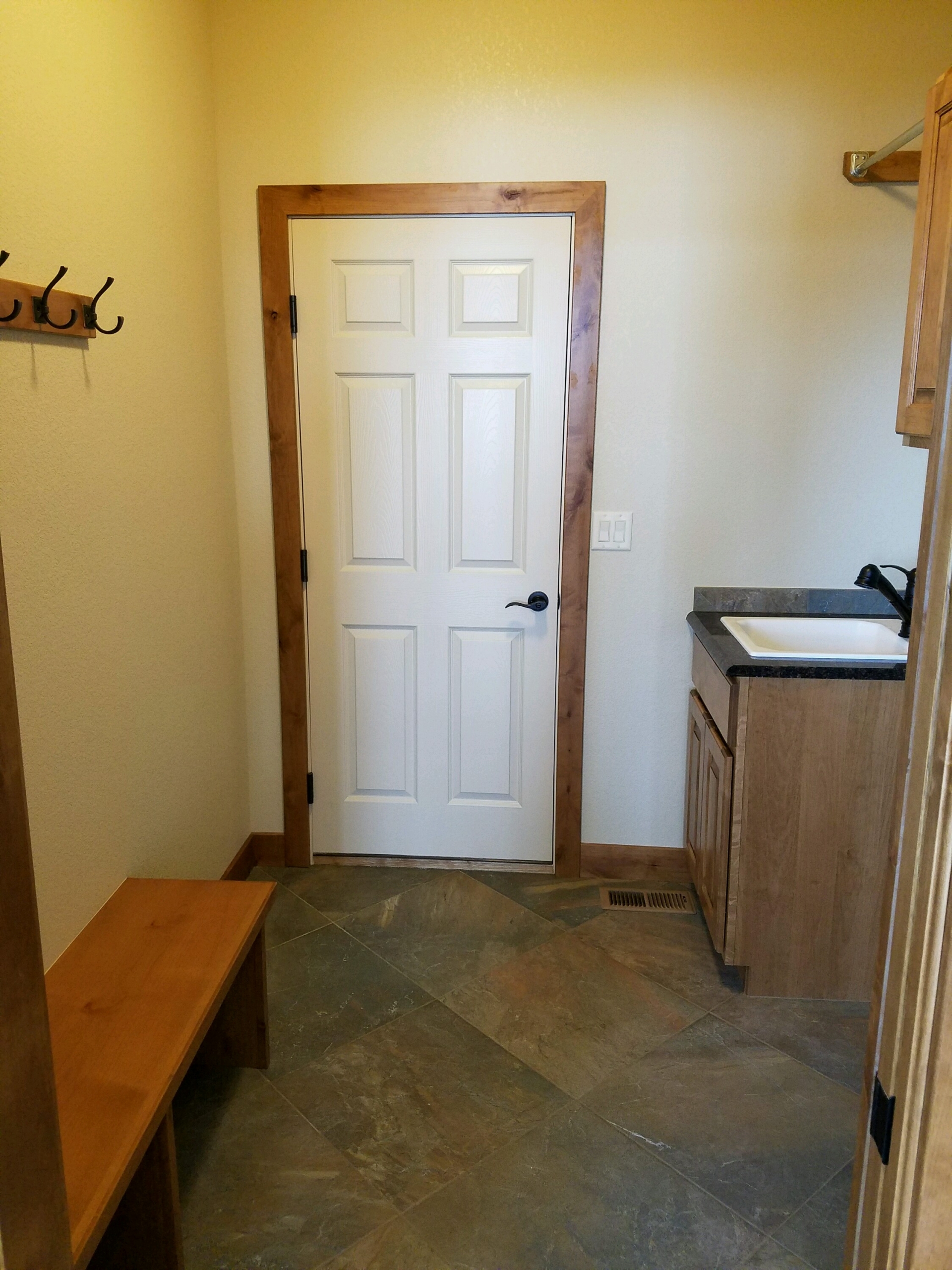 April 13 2016 – We are almost finished with this new really energy efficient Energy Star home at 4349 Yarrow Lane in Thompson Crossing! This is a great, established neighborhood with easy access to US-34 and I-25 and all of Northern Colorado and Denver areas. The Centerra shopping center and many other stores and restaurants are really close by and many within walking distance. This home backs to hundreds of feet of open space and has some Rocky Mountain views from the front and backyard.
Today I will apply the epoxy coat to the garage floor and then early next week we will base the garage. Tomorrow we will apply the final hardwood floor coat and this home will be ready for sale! I will post some pictures soon.
We had our final inspections yesterday with the Town of Johnstown and once again we had no issues at final inspections!! We also did the final Energy Star V3.0 test and we will receive our certificate and HERS score soon.
March 21 2016 – This new Energy Star home is progressing nicely. We poured all the exterior concrete last week and and finished the hardwood sanding and staining and installed the cabinets and more tile. This week we are hanging light fixtures and setting interior doors and trim and then staining and lacquering. We should also paint the exterior this week too. Below are some pictures that I took today to let you see the progress. We will be done with the new home in less than a month!!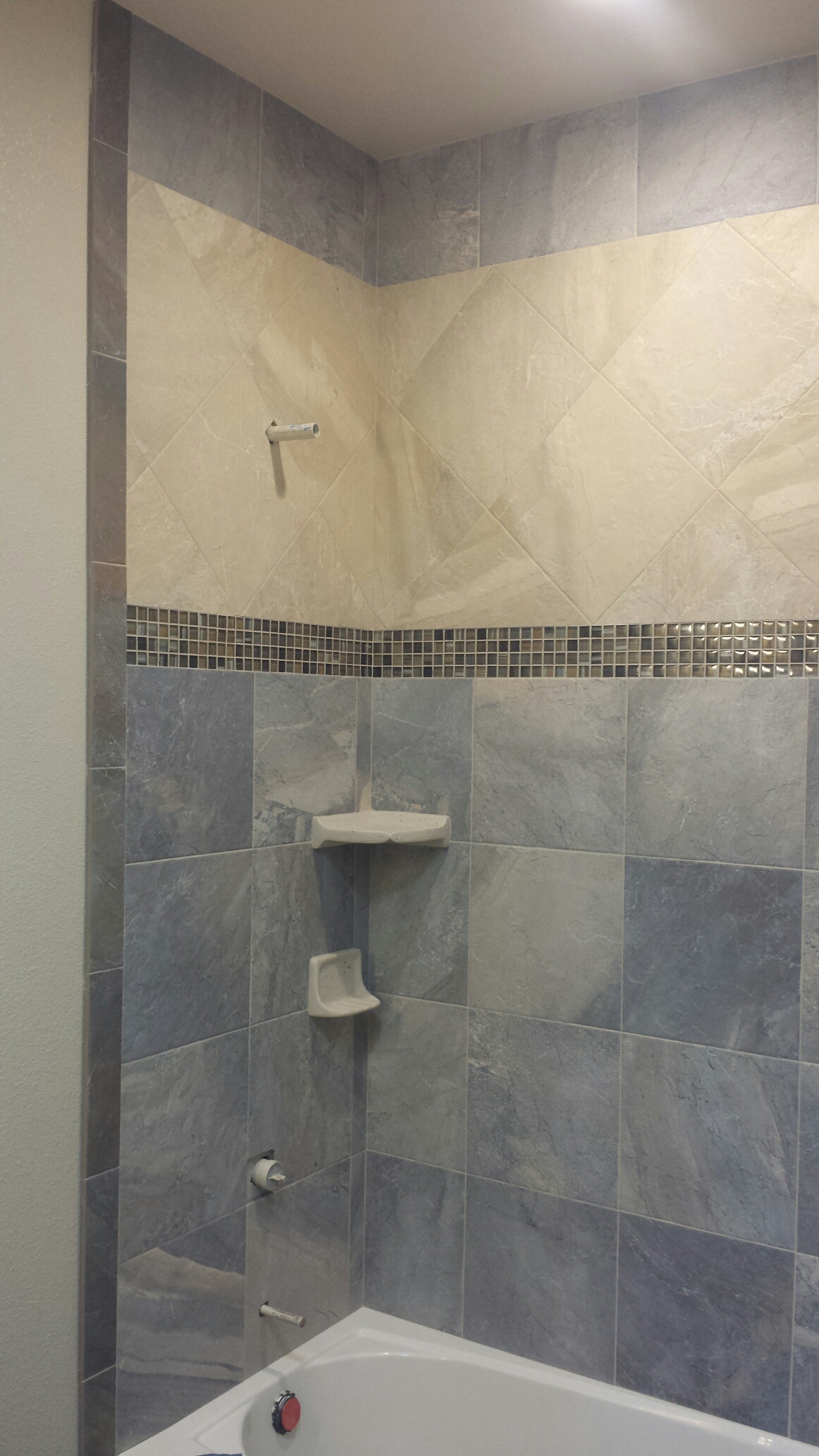 R&R Homes 4349 Yarrow Lane main bath shower walls – DalTile Ayers Rock porcelain tile with custom design.
R&R Homes 4349 Yarrow Lane kitchen as of 3/21/16. Tharp Alder cabinets with Nutmeg stain. Real hardwood is 2-3-5 random Ash with Nutmeg stain.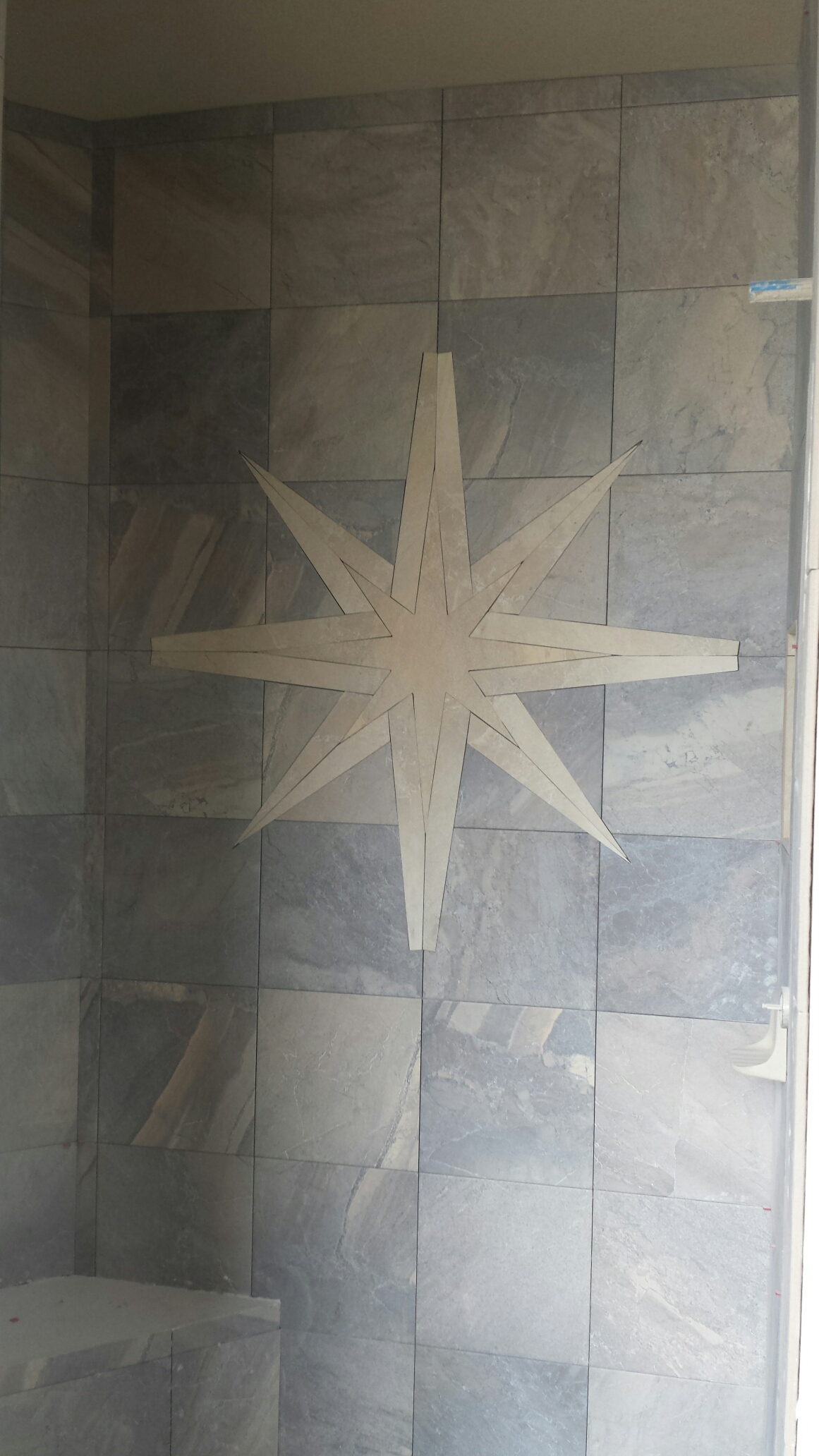 March 11 2016 – The hardwood and porcelain tile are being installed now and early next week we will set cabinets and start on some interior trim. Later next week we will stain the 2″-3″-5″ random Ash REAL hardwood floor in Chestnut stain. I picked out some really cool (and usually very expensive) granite remnants for all the bathrooms.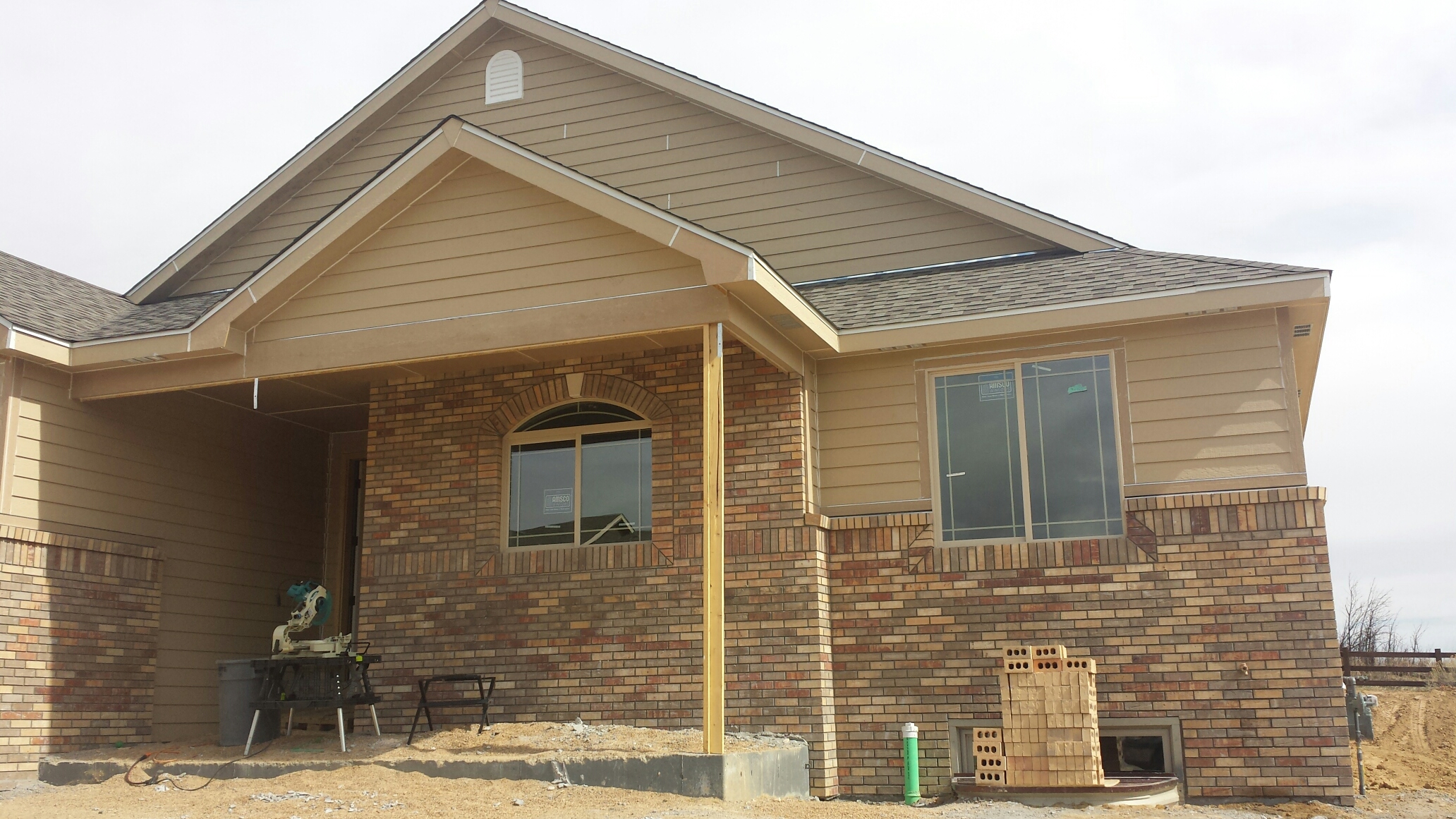 March 9 2016 – We have painted the interior and will begin working today on the 2″-3″-5″ random Ash REAL hardwood floor in the kitchen, great room, eating area and hallway. We will also begin installing the porcelain tile in all the bathroom floors in addition to the entry and laundry room floors. We will pour the driveway and patios soon and then paint the exterior.
February 29 2016 – Happy Leap Year Day! We are currently taping the drywall and will texture by the end of the week. We are installing the brick now too and just finished all the siding. Please call Tracy's Team to inquire about all the neat features of this new Energy Star home.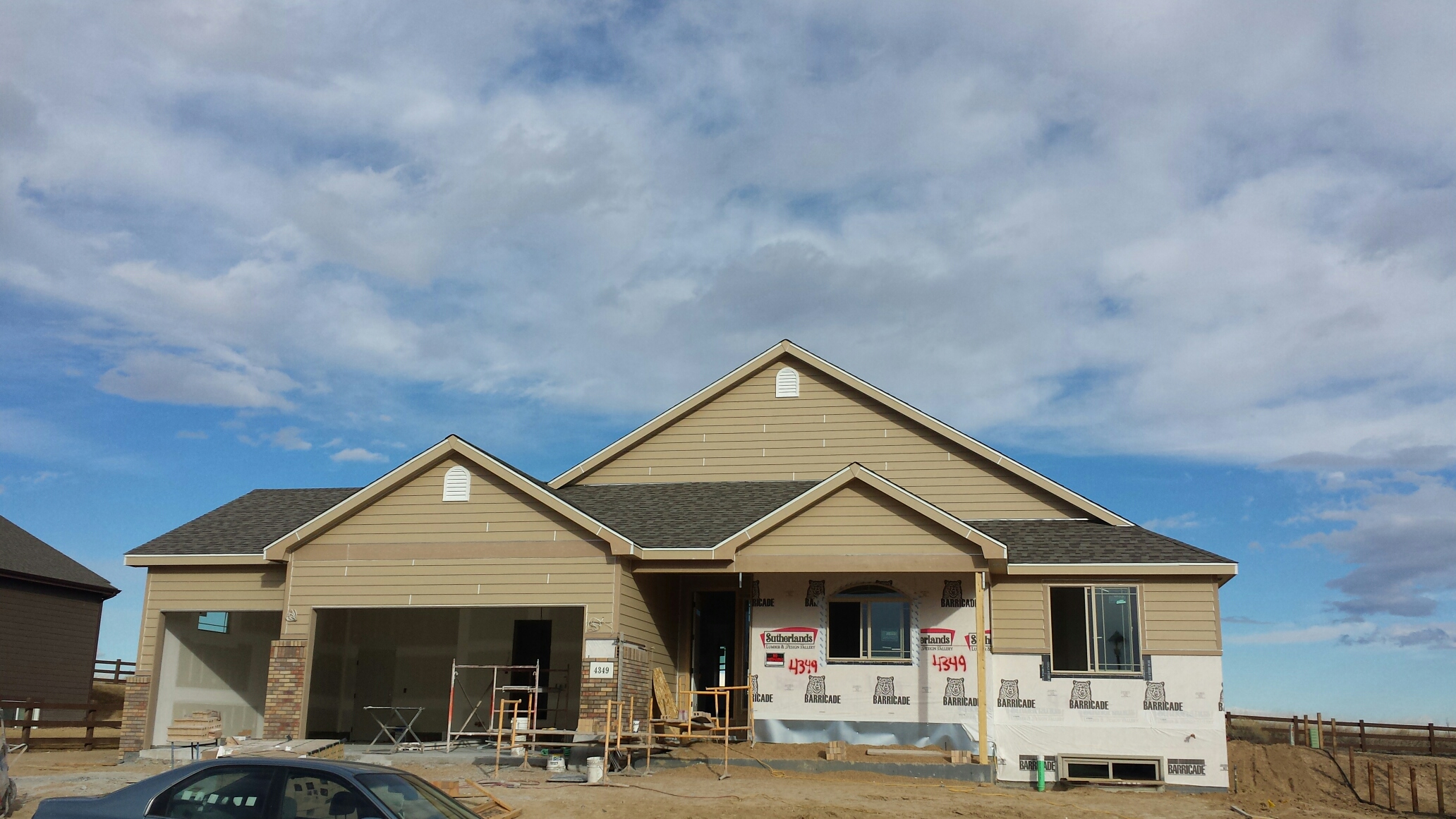 February 16 2016 – We had our rough inspections today and once again there were no issues! Thanks to our great team of sub-contractors for all their continued hard work and craftsmanship!!
February 15 2016 – For your benefit, we just installed a radon mitigation fan in the attic! Along with the 100′ perforated pipe under the basement floor tied into the 4″ piping through the roof, you should easily be under the EPA recommended limit of 4 pCi/L. This is one less worry when you move into your new R&R Energy Star rated home!
February 13 2016 – This enlarged Morro Bay model home at 2011 sq.ft. on the main level looks really, really nice! We have added more room almost everywhere in the house and now have a powder bathroom now. The 3 car garage includes both door openers (surprisingly a lot of builders do not supply the single/3rd car opener) and we have an 11.5′ x 5′ workshop area behind the 3rd car garage space.
February 11 2016 – As of now, our estimated completion date for this awesome new Energy Star home is April 15 2016 and you can move in that day!!
February 10 2016 – We are currently installing the rough HVAC and electrical and will have rough inspections early next week. We will finish the siding real soon and install the roof shingles. Please contact us now as you can still make a few decisions in the building process to customize this new Energy Star home to your liking!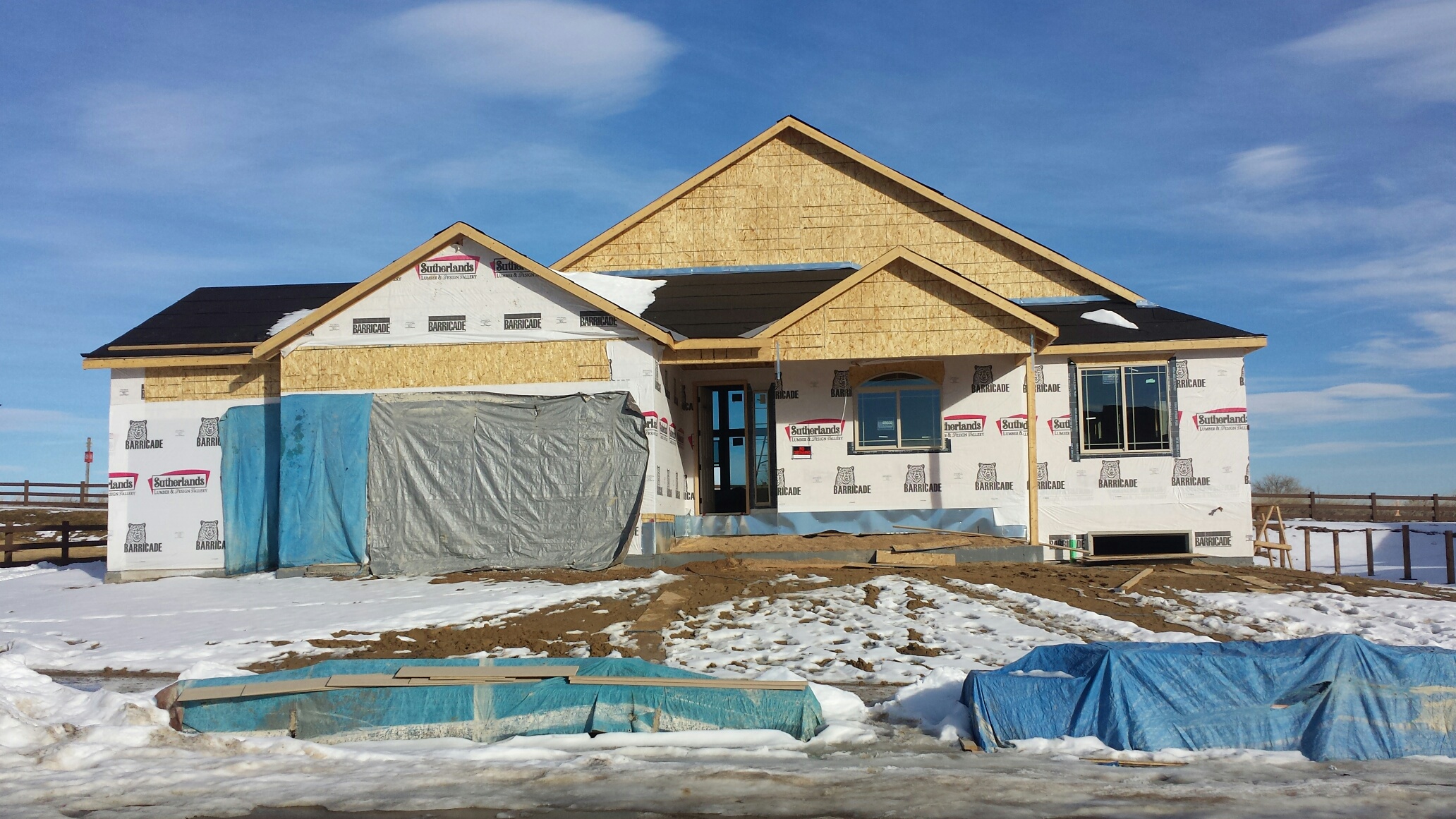 January 26 2016 – We are almost done framing and we dried in the roof today. We will start roughing in the plumbing, heating and electrical later this week. Please contact us now to inquire about this home as you can still personalize some choices like interior paint, carpet selection, etc.
January 21 2016 – We set trussed today and are sheeting the roof now.
January 17 2016 – This coming week we will set the trusses and sheet the roof and hopefully start roughing in the plumbing, heating and electrical in about 1.5 weeks. Happy New Year!!
December 18 2015 – Today we will pour the garage floor and earlier this week we poured the basement floor. All of our concrete is covered by blankets this time of year to give you the best home possible. We will begin framing this new house next week. Please note from the pictures below how this new Energy Star home backs lot lots of open space and fencing is already provided on all 3 sides. The backyard has a nice flat section where the patio will be and then a slight slope up to another section. My suggestion would be to create a sitting area on the upper level to catch the mountain view as you can see in the other picture below. Happy Holidays!!!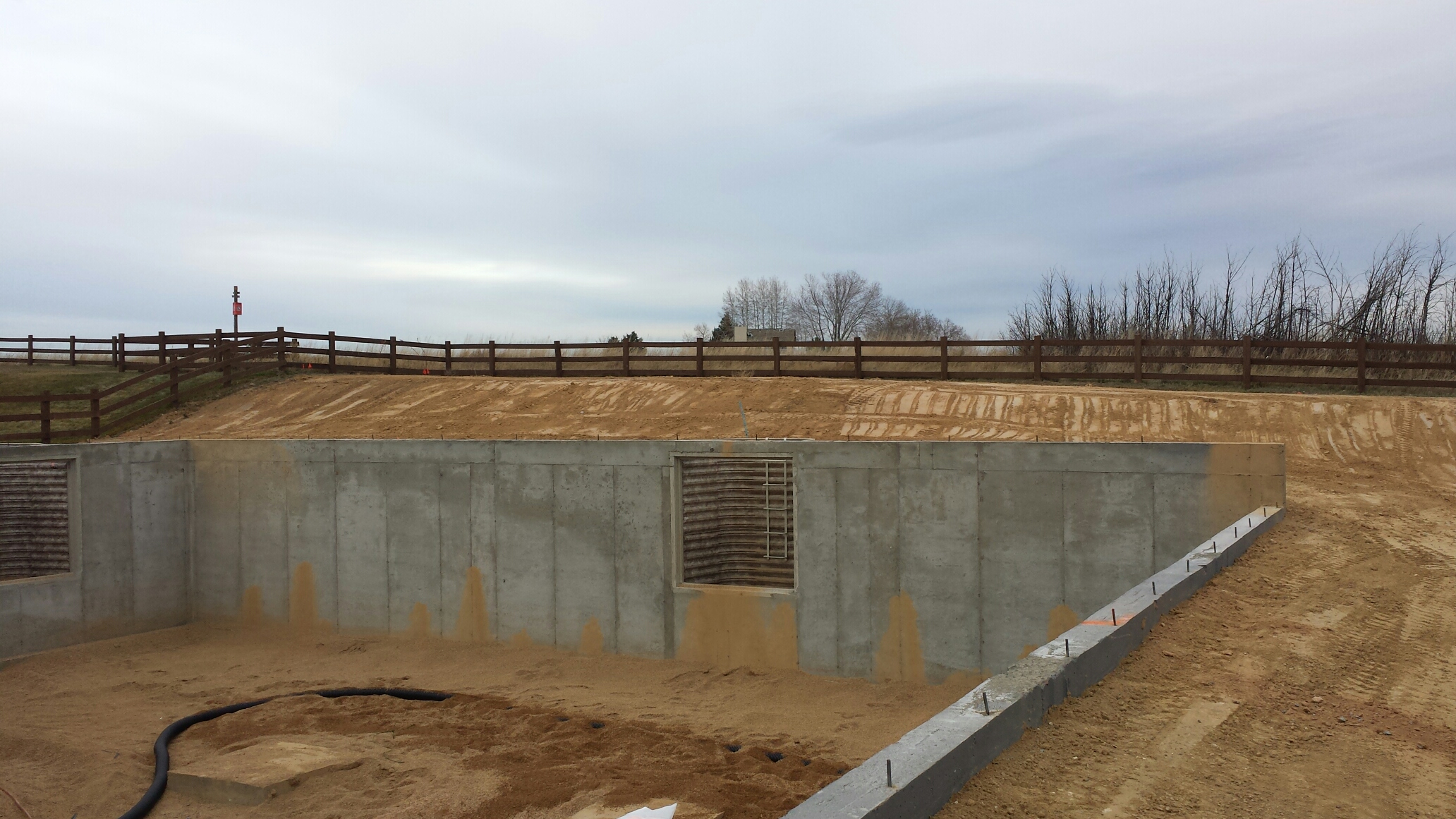 R&R Homes expanded Morro Bay model new Energy Star home – foundation as of 12/10/2015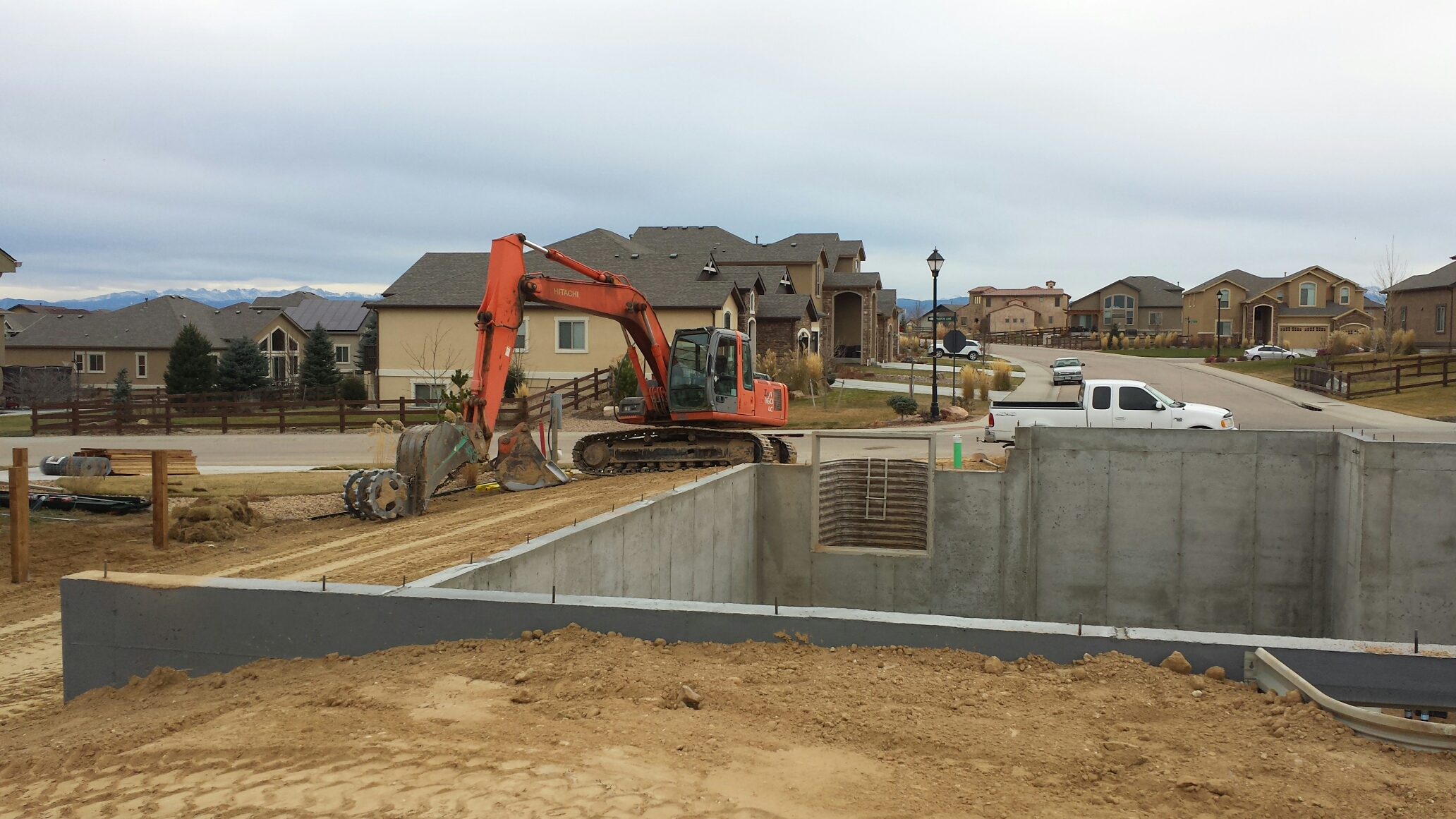 December 4 2015 – We have poured the foundation and stripped the forms yesterday so we should backfill later next week.
November 18 2015 – We started digging today! Please contact us to hear about all the neat items going into this house. The house is in a great subdivision and backs to open space and has mountain views from the front.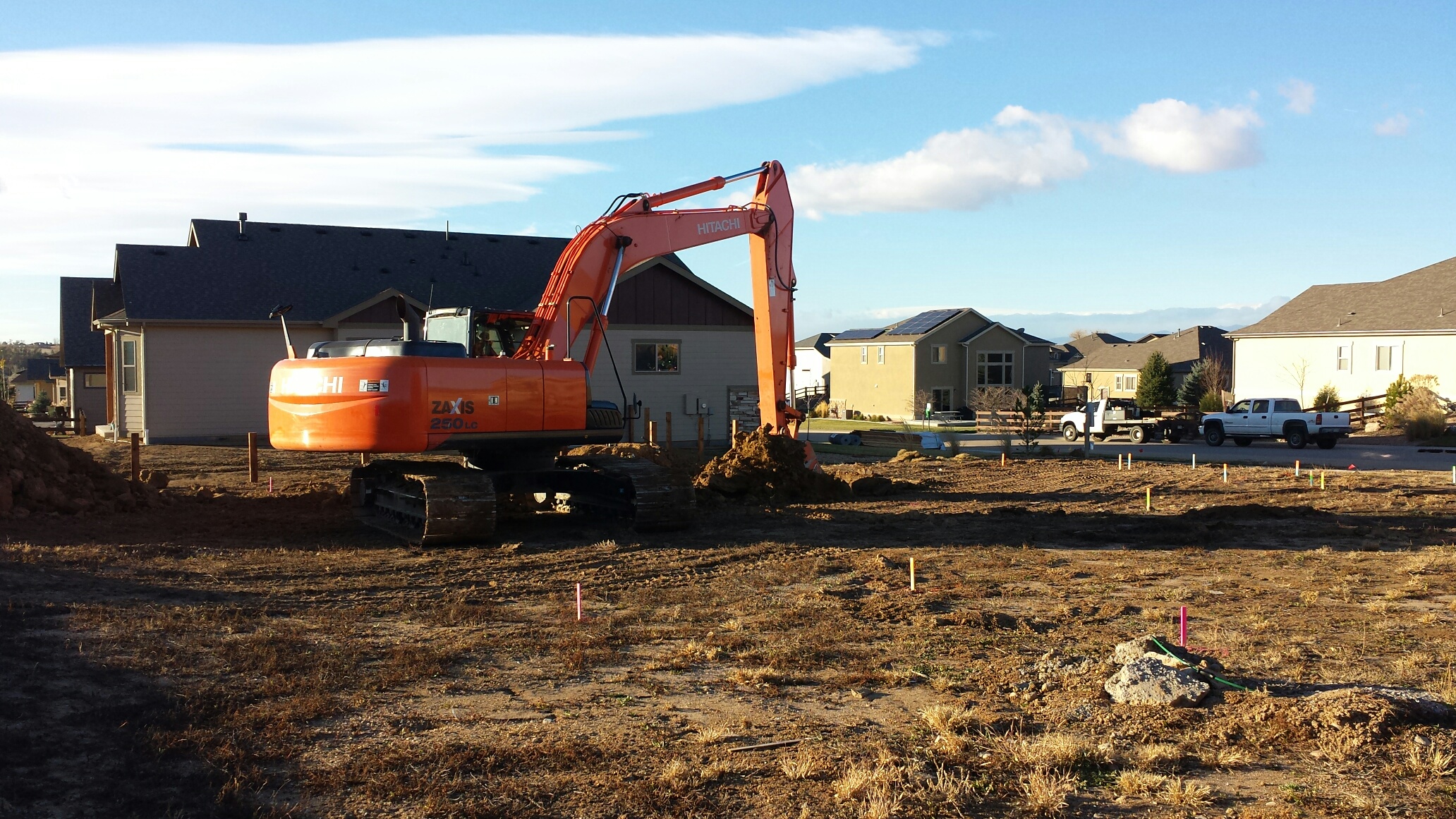 4349 Yarrow Lane R&R Homes Energy Star – excavation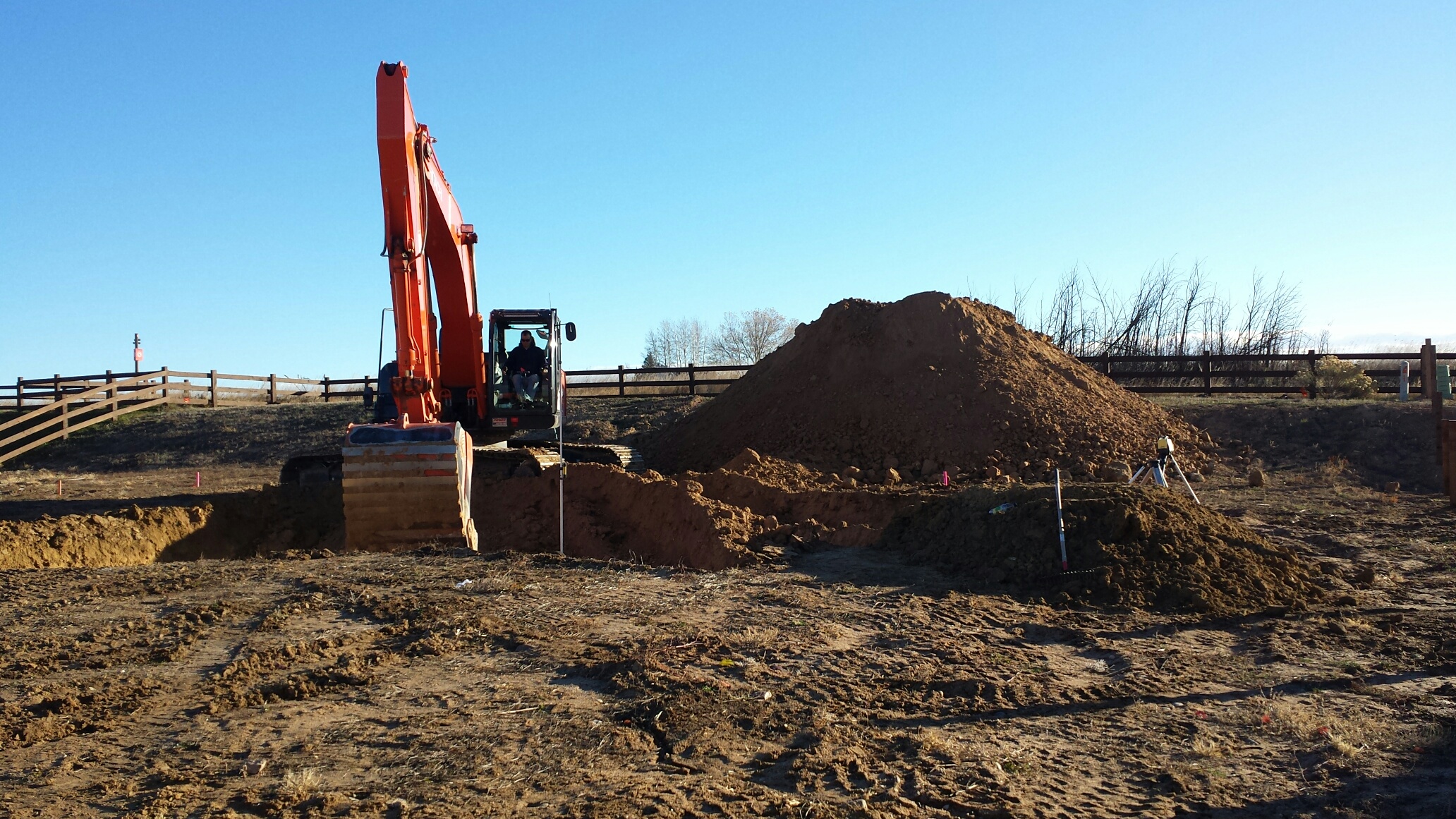 November 16 2015 – The permit is ready and we will begin excavation tomorrow! Please see the 3 drawings below for the front elevation, main level floor plan and basement floor plan for this new Energy Star home at 4349 Yarrow Lane!
November 6 2015 – We should begin excavation in the next week or two on this new home for sale!
September 29 2015 – We will begun construction soon on our new floor plan which is an expanded 2011 sq.ft. Morro Bay model Energy Star new home at 4349 Yarrow Lane in the highly desirable Thompson Crossing neighborhood in Johnstown, CO 80534. Thompson Crossing is located near I-25 and US-34 at Centerra but it is located south of Centerra on a bluff overlooking the Big Thompson River. Thompson Crossing has beautiful artwork around the subdivision and many walking trails and even one that leads down to the river. You will feel away from it all but there is so much to offer so close to here and very easy freeway access. We expect to complete this home in early to mid-March 2016.
We will have more details soon on this new home. A few details I can share is it is a 3 car garage with an additional workshop area off the 3rd car garage. The main level is 2011 sq.ft. and will have 9′ main level walls and there is a powder bath integrated into this home. The kitchen will have an upgraded appliance package and design. The laundry room is expanded and includes a bench seat and places to store jackets, backpacks, etc. The master bathroom will also have a poured shower floor in the over-sized master shower. The 9′ basement finish will include a great room and a bedroom and bathroom. Of course we can still customize this home to meet your needs so please contact us for more information.
There will be upgrades to this home we will detail later but you can review our exceptional standard features here that we included in every new R&R Home.
This home is expected to have an Energy Star HERS score in the high 50′s so your new home will be about 40% more energy efficient than other new homes. We also incorporate many Green Building features, materials and building practices into our new homes.
Please visit our Energy Star webpage or Energy Efficiency Blog to see more about how an Energy Star home saves you money on utilities every month, provides better indoor air quality and provides a higher re-sale value.
Please contact Tracy Wilson at Tracy's Team with Re/Max Alliance at 970-567-0907 for more information on this new Energy Star home for sale in Northern Colorado.